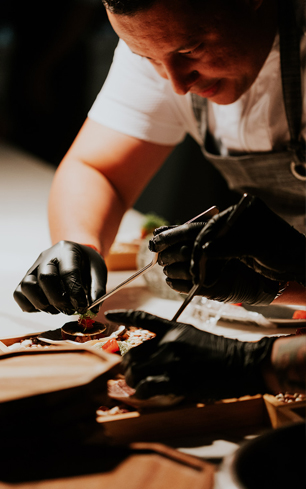 A freestyle dining experience
Ever Restaurant Aruba is a freestyle fine dining experience on the Oranjestad marina at the Harbour House Condos. Chef Ever de Peña takes center stage in the open kitchen to showcase his love for culinary arts.
Settle into our salle à manger with seating for up to 14 guests, and let your appetite take the lead for an 8-course odinner menu. Our set menu focuses on fish, shellfish, meat courses, and dessert.
Seatings We are open Monday – Saturday: 8-Course Dinner Menu - 7.00 pm - 10.00 pm
The cost for our fine dining experience is $119 for 8 courses. Wine pairing is only available for an additional $79. Please inform us of any allergies. At the moment, we are not able to accommodate dietary restrictions.
Location We are located at the Harbour House Condominium next to Lima Bistro. Westraat 2, Oranjestad Aruba